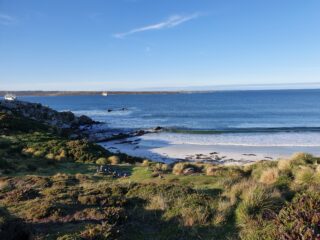 MEP have recently completed an independent, expert review of the Falkland Islands' management of the mixed-species finfish and skate fisheries on behalf of the Falkland Islands Government.
In doing so, MEP provided the first full review of the finfish fishery management to help the Falkland Islands Fisheries Department (FIFD) identify future management strategies, implementation priorities, institutional changes and governance approaches that will help support profitable, sustainable fisheries that benefit the Falkland Islands.
Part of the review focused on the more detailed, operational components of the current fisheries management processes.  This included assessment of the stock statuses and provision of harvesting advice, the programme of scientific activities, the approach to allocation of annual catch entitlements and the control and enforcement system. However, MEP also considered the wider context of that management system, by investigating the capacity, resources and organisational aspects of the FIFD in seeking to deliver efficient fisheries management and meeting the objectives of the Falkland Islands' fisheries legislation, as well as potential future roles of fisheries stakeholders in that delivery.
The recommendations that were made were informed by extensive discussions with stakeholders from the fishing industry, scientific community and government during a field visit to the stunning Falkland Islands.