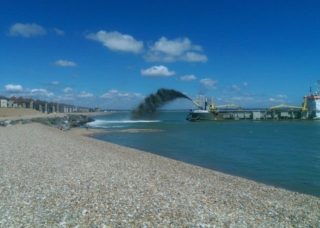 MEP were contracted to carry out Fisheries Liaison Services for the Environment Agency(EA), who have been working in partnership with Arun District Council and Elmer Sands Limited.  This work was to improve the coastal defences and reduce the risk of flooding and coastal erosion at Elmer.  Construction for the Elmer flood and coastal erosion risk management scheme began in September 2019 and is now complete.
Throughout construction there have been numerous challenges – in particular the weather. It was extremely wet and there had been several significant storms. Coronavirus had also presented a challenge for the project, however the EA remained determined to complete the sea defence project. The project consisted of: • Extension of the rock revetment • Shingle beach recharge • New boat ramp and improved footpath for beach users.
MEP were able to liaise and negotiate with the affected fishers, in order for them to receive  fair cooperation payments for the disruption caused whilst the coastal defence work was undertaken.