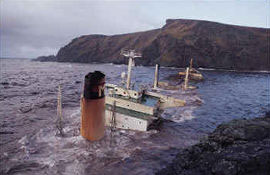 The fisheries and aquaculture sector shares the marine space with many other sectors, including renewable energy development, oil, gas and sediment extraction, cable laying, marine conservation area designation, shipping and tourism. This can lead to problems such as conflict over area use and loss of income for fisheries and aquaculture businesses.
We believe we're unrivalled in our ability to offer specialist advice and liaison to limit conflict between the fishing industry and the commercial sector. We aim to prevent or avoid losses wherever possible and create a positive outcome for both parties. We're proud of our ability to gain the trust of the individuals involved and build long-lasting, positive relationships between industry and the fisheries sector.
Additionally, when marine incidents occur, such as a vessel grounding, collision, oil or chemical spills and cargo spoilage – we can respond quickly to assess the impact on your operations and aim to adjust that loss. Our independent expert witnesses and the data we gather can be used as evidence by P&I Clubs, lawyers, auditors and courts to assess potential losses in compensation consultations.
Our services can include:
Fisheries liaison
Impact assessments and compensation advice
Loss adjustment
Providing expert witnesses for disputes taken to court
We've also designed major fisheries livelihood restoration plans (FLRP) and contributed towards many environmental and social impact assessments (ESIA) and fisheries impact assessments (FIA) globally.