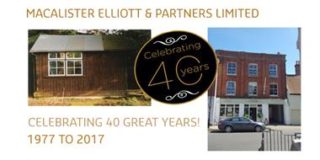 On Friday, 16 June, 2017, MacAlister Elliott and Partners (MEP) celebrated their 40th  Birthday.
MEP started from very humble beginnings, following Gowan MacAlister and David Elliott's attempt to buy the company that was employing them.  That attempt wasn't successful and following the termination of their contracts, an idea was born. Their inspiration being E F Schumacher's – "Small Is Beautiful", effectively an early peon to sustainability.
40 years on and we are older, and certainly wiser, but definitely sustainable!