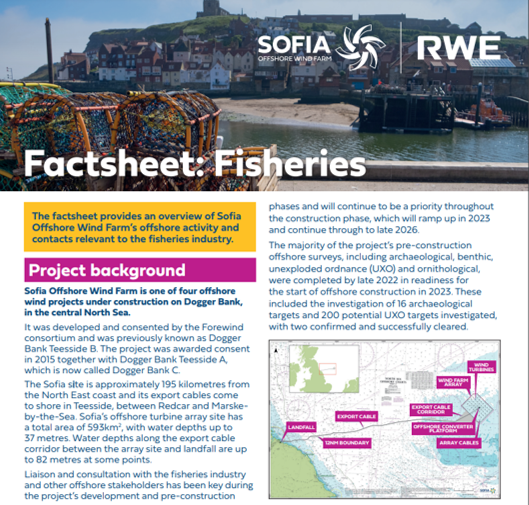 The Sofia Offshore Windfarm was consented in 2015 and survey and preparation work commenced soon afterwards. Fisheries Liaison Officers were appointed and MEP were appointed as Commercial Fisheries Compensation Strategy Specialists. MEP's role is to operate as an independent body to assess and calculate potential losses to individual fishing enterprises and make a legal agreement for affected fishing vessels to remove gear from specified areas during surveys and construction. Co-existence through dialogue and understanding of each party's needs has been achieved and a sound working relationship exists with the fishing industry and local communities.
The factsheet link provides an overview of Sofia Offshore Wind Farm's offshore activity and the contacts relevant to the fisheries industry:
https://sofiawindfarm.com/media/telic0ve/final-sofia-fisheries-fact-sheet-for-web.pdf?