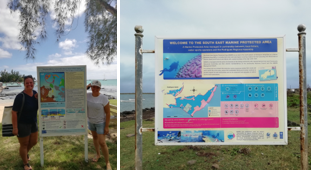 MEP are working in Mauritius on four Lots under the UNDP Mauritius Project "Mainstreaming biodiversity into the management of the coastal zone in the Republic of Mauritius".  This work began in 2018 and will continue into 2020.
MEP's four individual projects include:
developing management plans for Mauritius' 6 fishing reserves and a lagoon rehabilitation plan;
developing an operational and business plans for the South Eastern Marine Protected Area (SEMPA) in Rodrigues;
analysing the institutional and governance arrangement for MPA management in Mauritius; and
developing a financing strategy for the MPAs of Mauritius.
MEP have conducted several site visits to the Voluntary Marine Conservation Areas (VMCAs) and fishing reserves of Mauritius Island, and to SEMPA in Rodrigues.
The inception phases for each project have now been completed and a series of stakeholder workshops and consultations will now take place on both the Island of Mauritius and on the Island of Rodrigues, as management plans are developed for each protected area. The team plan to return in August to hold an MPA Planning Workshop.