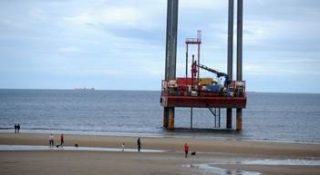 The attached article (see relative links below) was recently published in the local Teesside gazette, where the Haven Seariser Platform, located on the shore between Marske and Redcar has been causing great interest to the public!
The platform has been there for a few weeks now and is due to stay a month in total to drill boreholes as part of investigations into the Sofia Offshore Wind Farm, off Teesside's coast.  A 220 kilometre electricity cable will transport power generated by the wind farm to a new onshore converter station, near Lazenby.
MEP are the fisheries consultant for Sofia Offshore Wind Farm/RWE, liaising and negotiating cooperation payments with the affected fishers.
The area is an important lobster and crab fishery as well for finfish and scallops.
https://sofiawindfarm.com/case-studies/supplier-case-studies/macalister-elliott-partners-ltd/
https://www.gazettelive.co.uk/news/teesside-news/gallery/how-close-pictures-huge-platform-18594447