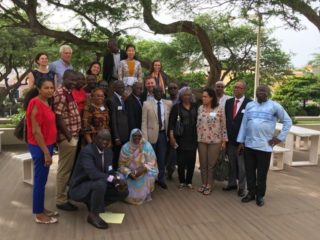 On 2nd October, Stephen Akester traveled to West Africa, initially to Mindelo in Cape Verde for the sub regional fisheries commission meeting .  Here he met with the Ghanian Team for an initial meeting (photo 1).
Photo 2 is of the Sub Regional Fisheries Commission Crew (SRFC), following Stephen's presentation of regional fisheries management issues.
Photo 3 includes Directors of Fisheries in 9 countries, including the World Bank team and SRFC.
Stephen then travelled to Freetown Sierra Leone via Daka, for meetings on WARFP Phase 2 and then to Liberia .